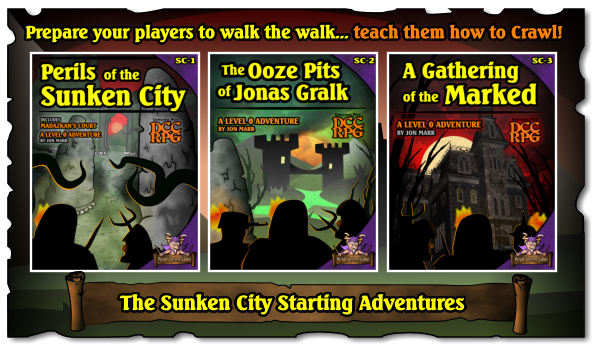 Most find death in the crumbling ruins that stretch beyond sight into the mists south of the Great City; once rich districts now claimed by swamp and dark denizens. But for the desperate few, the ruins offer treasures the Great City denies them: fortune, glory, and a fighting chance!
Challenge your players with
SC Series Adventures
set in the massive crumbling ruins of the swamp-ravaged
Sunken City
. Easily introduce waves of beginning characters to your world, winnowing 0-level mobs down to bands of hardy explorers ready for even more dangerous fare!
Features of the Sunken City Adventures
Officially compatible with the DCC RPG
Designed for 0-level characters with conversion notes for 1-level explorers
Easily dropped into most campaigns
Travel to and from the dangers of the Sunken City using unpredictable demon-powered sending stones!
Every foe encountered is a new and unique creation - no standard baddies!
Deliciously deadly, but with enough levity to keep the fun-factor high
Available at the launch of the DCC RPG in early 2012!
Once your players move on to greater challenges, transition to the
M Series of adventures
, beginning with
Against the Vortex Temple
. The M Series will take your characters on a journey from local obscurity to legendary renown! [Beginning Spring 2012]
Find out more at http://purplesorcerer.com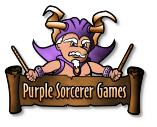 About Purple Sorcerer Games
Purple Sorcerer Games is the creation of Goodman-Games Forum regular
Tovokas
- designer of the popular
0-level Character Generator
(over 75,000 DCC characters created!) and the
'Funky' dice roller.
Needing additional adventures to test the creations of his character generator, the first Sunken City adventure was born, and the rest, as they say, is history!