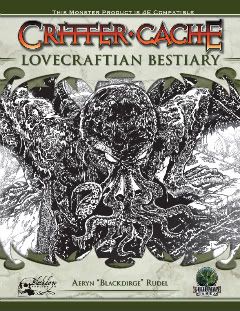 DMs, are your monsters lacking that certain something that makes them more than just another rung in the ol' XP ladder? Do you want your players to be wide-eyed with terror and whisper, "what the hell is that?", when you introduce a new monster to the game? Then look no further! The newest offering from Blackdirge Publishing and Goodman Games allows you to harness the raving lunacy of H.P. Lovecraft's tales of terror and the supernatural for you Fourth Edition Dungeons & Dragons game. That's right;
Critter Cache: Lovecraftian Bestiary
brings the squishy, squamous goodness of Lovecraftian monsters to your game table.
So dispense with the mundane kobolds, goblins, and orcs, and populate your next dungeon with elder things and shoggoths. Or, the next time your PCs set sail, have them bump into a slime-coated island covered with ancient ruins where giant, Cyclopean vaults just wait to be opened…
Critter Cache: Lovecraftian Bestiary
is 40 pages of new 4E material, and features over 30 of your favorite Lovecraftian critters, including everyone's favorite, tentacular Great Old One:[/size]
Color out of Space: Color out of Space
Cthulhu: Cthulhu, Star Spawn of Cthulhu
Dagon: Dagon
Deep One: Deep One Hybrid, Deep One Hybrid Elder, Deep One Priest of Cthulhu, Deep One Raider, Deep One Leviathan
Elder Thing: Elder Thing, Elder Thing Lifecrafter, Protoshoggoth
Flying Polyp: Flying Polyp
Ghoul, Lovecraftian: Ghoul Burrow King, Ghoul Coffin Cracker, Ghoul Grubber, Ghoul Gnawer
Great Race of Yith: Yithian Lightning Guard, Yithian Mindshifter, Yithian Temporal Master
Gug: Gug Priest of the Old Ones, Gug Sentry, Gug Slayer
Mi-Go: Mi-Go Guard, Mi-Go Scout, Mi-Go Surgeon
Nightgaunt: Nightgaunt, Nightgaunt Chosen of Nodens
Shantak: Shantak
Shoggoth: Greater Shoggoth, Shoggoth
Pick up Critter Cache VI: Lovecraftian Bestiary at RPGNOW for only $3.99.