The 2022 Purple Sorcerer Games Free Tools Pledge Drive is Here!
Once again it's time to support the popular set of tools that are TOTALLY FREE! How are they free? Because people like you support the creation of them so everyone can enjoy them.
Here's the details directly from the Sorcerer himself:
---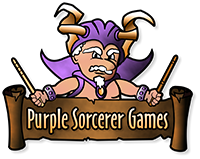 The Purple Sorcerer is thrilled that so many judges and players in the DCC community continue to find great value in the free tools. Whether it's the character generators (29,500,000+ peasants created!), The Crawler's Companion dice-rolling and reference app, the Sorcerer's Grimoire custom spellbook utility, or one of the easy-to-use demon, dragon, or magic sword generators, each tool has been built with the simple purpose of making it easier for everyone to enjoy the Dungeon Crawl Classics Role-Playing Game!
Why a Yearly Fundraiser?
The tools are free, and will always be free. But there are a number of expenses associated with creating, maintaining, testing, publishing, and hosting the free tools, including server costs, development fees, the need for new hardware, mobile devices for testing, and various software expenses. These would be challenging for the sorcerer to cover, but the incredible generosity that the DCC community demonstrates during the annual drives continues to meet all these needs, and more!
When you give, you receive Purple Sorcerer adventure PDF's, and also have the chance to win amazing special treasures and random prizes provided by Goodman Games and others in the DCC community!
The special treasures available to this year's most generous donors are, as usual, amazing! The list includes (with likely more to come):
The Dark Master himself and Goodman Games have provided a number of truly AMAZING prizes including:

Prize #1
Leatherbound edition of Judges Guild Deluxe Collector's Edition Volume 2: The Works of Jennell Jaquays
Prize #2
OAR #6: Temple of Elemental Evil
Prize #3
A vintage misprinted printed copy of DCC #1: Idylls of the Rat King. The inside cover was printed off-center so part of the map is cut off.
Prize #4
Lankhmar collection: The DCC Lankhmar boxed set, Greatest Thieves in Lankhmar boxed set, and an assortment of several individual Lankhmar adventures

The legendary Harley Stroh has offered his own pre-publication draft of Chessmen of the Purple Planet! Peer into the mind of the master as you read his personal draft of the adventure: Chessmen confronts 4th level characters with a Purple Planet adventure unlike any other. Travel back to a world of cruel pageantry, strange rituals, and deadly foes. Those clever and cunning enough to survive will have the chance to reshape the face of the Purple Planet. But those that fail will be found eons later, the bones bleached beneath the weirdling sun.
And much more!
The drive runs from July 11 through July 16. Thanks to one and all who continue to support the free tools!