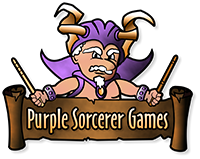 It's like your favorite vitamin commercial. Characters from the Purple Sorcerer app are now 28 million strong and growing!
The sorcerer himself, Jon Marr, recently announced on Twitch that his free app has generated 28.8 million 0-level characters for DCC RPG. This is an amazing achievement that blows our minds and paints a massive smile on our faces. And if you haven't checked out Purple Sorcerer's tools, you need to do so! Any app that generates that many characters is obviously doing it right!
While you're at it, be sure to support Purple Sorcerer's Kickstarter for Dread Specters of the Shrieking Vale, which is fully funded and halfway through their stretch goals. Help them reach them all!
Almost 29 million gongfarmers created for DCC RPG. That's incredible. And who knows—maybe we'll have a special prize for gongfarmer #30,000,000! Only time will tell…