The Compleat Strategist
11 East 33rd Street (between Madison and Fifth Avenue)
New York, NY 10016
212-685-3880
http://www.thecompleatstrategist.com/
Hours: Monday-Wednesday - 10:30 a.m. - 6:00 p.m.
Friday-Saturday - 10:30 a.m. - 6:00 p.m.
Thursday - 10:30 a.m. - 9:00 p.m.
Sunday - Closed
i've wanted to go to this store forever, or at least dating back to when I first saw ads for it in Dragon Magazine. This past weekend I went to NYC for a wedding and got my chance. In a way it both lived up to the hype
and
fell short.
The store is densely packed* with tons of product. I could've spent all day browsing but my girlfriend's patience ran out after about 45 minutes. I was pleased to see DCC was well represented, with 4 core books on the shelf (3 2nd printings and 1 red wizard cover), 2 copies of Dungeon Alphabet (w/ 1 gold foil), and this: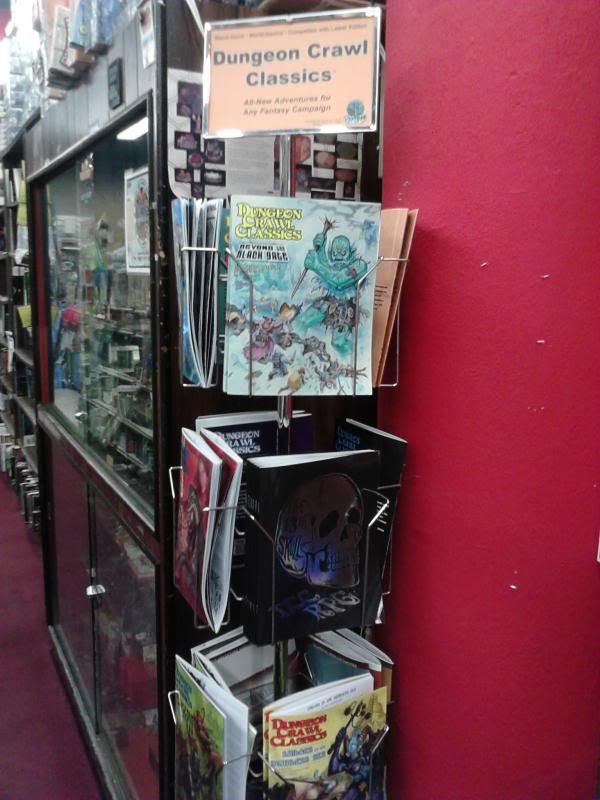 Of course, I
have
all of those, so I asked the guy behind the counter if they had any GameScience precision dice (I'm always looking to pick up a few more of those). He answered "No".
Later, I asked for a
non-DCC related product
, and, again, he said "No".
No additional info, no offer to order either of my requests, no effort made at all, really. It was disappointing.
So, 5 stars for overall game selection, 1 star for dice, and half a star for customer service.
*The one downside to this being no space for in-store gaming.